Right now on Pinterest, there's a piece titled, "One million ideas for Mason Jars".  I guess the old saying is true…everything old really is new again.  It made me laugh because I have a cabinet full of old canning jars and I've been using them for years.
The glass canning jar or fruit jar was invented in 1858 by John Landis Mason who was a tinsmith from Philadelphia.  Before Mr. Mason invented his glass jar with a threaded top for screwing on a lid, jar tops had flat sides and had to be sealed with hot wax.  The wax method of sealing jars was messy and didn't always guarantee a good enough seal to keep bacteria from forming in the food in the jar.  Mason's new canning jars made canning foods popular and safe in America.
Unfortunately, his patent on the jar ran out in 1879 and he never made much money from it.  In 1884, the Ball Brothers Glass Manufacturing Company started making mason jars.  The company was moved from New York to Indiana in 1887.  Other competitors such as the Kerr Glass Manufacturing Company also stepped in and began mass-producing canning jars.
Mason Jars are made from soda-lime glass and the quart jars, which are the most common, come in either regular or wide mouth sizes.  The original canning jars also came in half-pint, pint and half-gallon sizes.  Mason's original jars were stamped with the line, "Mason's Patent Nov 30th 1858".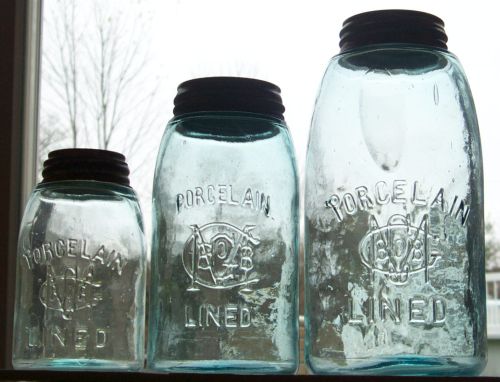 In 1909, a primer on home canning called the Ball Blue Book was published and in 1918 the Ball brothers gifted a small college in Muncie, Indiana to the state of Indiana.  It was later renamed Ball State University and one of its famous graduates is entertainer, David Letterman.
Business was so good for the Ball Brothers Glass Manufacturing Company that they didn't lay off a single employee during the Great Depression.  In 1972, the Ball company went public after 88 years as a family-owned business.
The jars I own belonged to my grandmother.  When she died, it was the only thing I wanted from her house.  I remember many hot summer days in her farmhouse kitchen helping her can the bumper crop of tomatoes from her garden.  And she always had a bumper crop because that woman had the greenest thumb I've ever seen.
Back in the day, canning was a big deal and my grandmother would devote an entire day to it.  The quart jars had to be pulled out and washed, the tomatoes picked and washed, blanched and peeled before cutting them up to go into the jars for canning.  It was a long, slow, hot process but at the end, there were many jars of canned tomatoes to eat through the Midwestern winter until it was garden time again.
My grandmother was not partial to a brand it seems as her jars have different names on them…Mason…Ball…Kerr.  Many of the jars have embossed pictures of fruit and fun sayings.  Some of them say "Mom's Mason Jar" and have a picture of an early 20th century woman complete with hair bun and glasses and holding an apple.  Some of them say "Golden harvest" and have an embossed picture of fruit.  One jar simply says Mason and has an embossed picture of tomatoes on the front. Some of them say "Made in U.S.A." on the back and I really like that too.
Antique canning jars are very popular with collectors. The value of an antique jar is determined by color, age, condition, and rarity.  Colored jars are harder to find now but were considered better for canning as they blocked the light from the food and helped to retain both flavor and nutritional value.  Besides clear glass, canning jars came in aqua (called Ball blue), amber, shades of green, cobalt blue, milky white and black.
In the old days when every family saved buttons, many people kept their buttons in Mason Jars…and some of my friends still do.  I love to use my grandmother's Mason Jars because when I do I think of her.  For years, I've used them as vases for flowers for both parties as well as for every day.
My daughter uses a Mason Jar for her loose change.  When my sons are home, they like to drink beer from their great-grandmother's jars.  I'm not sure what she would think of that!  On Christmas Eve, I put candles in the jars and line my driveway to light the way for Santa Claus.  I do the same on New Year's Eve to light in the new year.
My grandmother's Mason Jars are a part of my family and I like to think that somewhere she is smiling and enjoying watching how we use her jar collection.