When I was 15, I came home from high school one day to find a huge contraption sitting in the middle of our living room.  It was made from wood, about six feet long, and had two parallel wood bars.  We didn't live in a big house and this thing took up about a third of the space in our living room.  Certainly it would interfere with the football throwing that normally happened in that room on game days.
My mother told me it was a quilting frame, and that she was going to make me a quilt, all hand-stitched, on that frame which stretched the fabric taut for sewing.  And she did.  It took several years and we all got used to the quilt rack in the middle of our living room.  When people came to visit, they would always stop and check the progress on the quilt.
When I was a young girl, my mother made many of my clothes and she taught me how to sew.  When I was in junior high and high school, she taught me to make my own clothes.  For one high school Christmas dance, I even sewed my formal dress.  Yes, I looked a bit like I had stepped off of the prairie…and my best friend, Karen, sewed one too and we double dated to the dance in our prairie gowns.
Karen and me in our prairie dresses…about age 15
My quilt was a "flower garden" quilt and the flower petals were made from the fabric scraps leftover from the clothes my mother and I made during my childhood.  Of course, my mother insisted that I work on that quilt.  Perhaps she thought the sewing would encourage me to talk with her while our heads were bent together over the emerging patchwork design.
But I didn't enjoy quilting.  I didn't have the patience for it and I was all thumbs and the stitches had to be so incredibly small!  Usually, I would begin sewing, stick my finger with the needle and start bleeding on the quilt.  Then, I would get relieved of my quilting duties for the day.
When I was researching quilt history, one website said a quilt is a "cloth sandwich" with a top, usually decorated, a back, and filler in the middle.  The word "quilt" comes from the Latin word, "culcita" meaning a stuffed sack.  Quilts come in four basic types:
*Plain or whole cloth…on these quilts the stitching makes the designs on the fabric.
*Applique…often made of whole cloth, with the design applied to a single large piece of fabric …applique quilts require more fabric and are considered the nicest kind of quilts.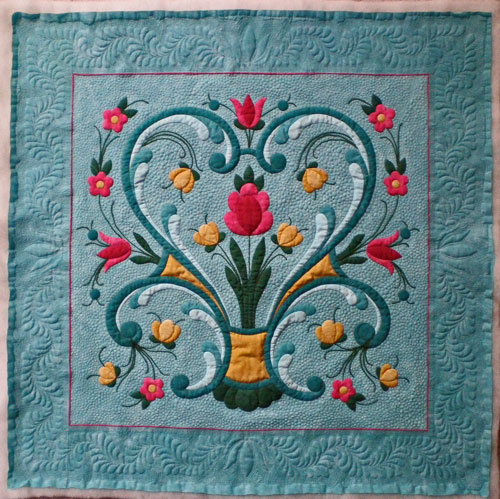 *Tied quilts…made from whole pieces of fabric on both sides with batting in the center and yarn ties spaced evenly to hold the quilt together.
Tied quilt made by my mom for my son in DePauw colors
*Patchwork…these quilt tops are composed of cut pieces of fabric sewn together to form a design.  The pieces or quilt patches are usually made from new or saved fabric and cut into geometric shapes.  They must be cut precisely so the edges can be matched and sewn to fit together exactly.
This is a patchwork quilt made by my friend, Anita Kirsch
My quilt was of the "patchwork" variety.  All the individual pieces were hexagons and were laid out and hand stitched together to form the flower garden pattern on the top of the quilt.  After the quilt top was completed, my mother added the batting in the center for softness and warmth, then pinned a whole piece of fabric to the back and hand quilted all three layers.  When the quilting was finished, she added a ¾" white finished edge around the perimeter of the quilt.
My flower garden quilt made for me by my mom
This was a long, slow process that took a number of years.  By the time I finally received my finished quilt, I understood and appreciated the time and effort put into my beautifully handmade gift and I've treasured it for over 30 years.
I also have a small patchwork quilt made by my mother's mother for me when my first child was born.  I used it for all three of my children and hope to use it again when I'm lucky enough to become a grandmother.
This baby quilt was made for me by my grandmother, Pearl Ritchie Wood
Recently, I pulled my quilt out to use on a guest bed and was distressed to find that the fabric in one of the flowers had rotted with age.  My mother is no longer quilting, so I turned to my dear and talented friend, Renee Lange, who knows how to make anything and everything.  You can see her charming blog and creations at www.sewnwithgrace.com
Renee first asked for pictures, and then asked me to ship my quilt to her in Michigan for the repairs.  So, this afternoon I am going to send it to her and when I get it back, I will share that with you.  I'm hoping Renee will write about this "love repair" on her own blog.   You can see in the picture below where I removed the rotted fabric.  If you have a family quilt story, I would love for you to share it in the comment section!
*Author's note:  For those of you who have my book, "The Button Box", there is a picture in it of the quilt made for me by my mom.
 **************************************
Here are some pictures of my repaired quilt.  Thank you to my dear friend, Renee Lange for doing the repair work so beautifully!